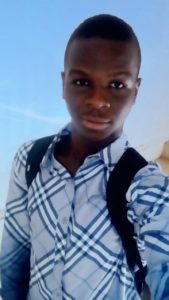 Today's student success story focuses on a young man whose journey began in the Gulf Language School's Intensive English Program. His hard work and commitment to his education has allowed him the opportunity to study at North American University!
Q: Who are you?
A: My name is Mwinyo Kevin Baptiste METUOLE DABIRE.
Q:  Where are you from?
A: I am from Burkina Faso.
Q: What is your major?
A: My major is business accounting.
Q: What are your hobbies?
A: My hobbies are playing videos games, sleeping, and going out to night clubs.
Q: What do you like most about America?
A: I like American foods such as 2 for $6 Whopper at Burger King and pizza.
Q: How has learning English in IEP helped you at NAU or your job?
A: My learning English in IEP allows me to communicate fluently with customers at my job. I have learned a lot of English just by communication alone.
Q: What are your future academic, career or professional goals?
A: My future professional goal is to become one of the best economists in the world. This is my childhood dream!
Thank you Mwinyo Kevin Baptiste Metuole Dabire for allowing us to interview him. Feel free to stop by and say hello to the GLS faculty and staff on the seventh floor! Once again, we are happy to see you around campus!
Also, if you are interested in getting interviewed for this blog, please contact Mr. Villanueva at [email protected]. Thanks!