Welcome to Gulf Language School's General English Program at North American University. Our highly-regarded language program is open to non-native speakers who wish to achieve proficiency in English for academic or professional purposes. Program components include reading, writing, listening and speaking.
General English Program Components
Writing
Express oneself more effectively in academic and non-academic writing, with work on content, accuracy, and organization.
Grammar
Increase a student's accuracy in spoken and written contexts, and learn grammatical structures common in U.S. English.
Listening and Speaking
Communicate more comfortably and increase the student's understanding in a variety of settings, from informal conversations to formal presentations.
Reading and Discussion
Improve a student's comprehension of fiction and nonfiction, and develop the student's vocabulary, discussion skills, and reading speed.
Program Length
Program length: 18-96 weeks
The placement test is given to each new student before they begin their course of study to evaluate the appropriate level of instruction. The length of instruction depends on the results of the placement exam for the General English Program. For example, an applicant scoring into GENG 0001 will have the following course of study:
Course
Semester
Weeks
GENG 0001 Lower Beginning English Level 1
Fall
16
GENG 0002 Upper Beginning English Level 2
Spring
16
GENG 0003 Lower Intermediate English Level 3
Fall
16
GENG 0004 Upper Intermediate English Level 4
Spring
16
GENG 0005 Lower Advanced English Level 5
Fall
16
GENG 0006 Advanced English Level 6
Summer
16
Total
96
The academic year for the General English Program is divided into 2 semesters, 16-week-long sessions, 9 hours a day, Monday and Tuesday (fall and spring) or 2 semesters 16-weeks long, 4.5 hours a day, Monday through Thursday (fall and spring) Students typically attend classes each semester (Reading/Writing and Listening/Speaking), and advance to a new level each semester. Students are allowed to join General English Program at the midterm i.e. Fall 2 and Spring 2 for 8 weeks.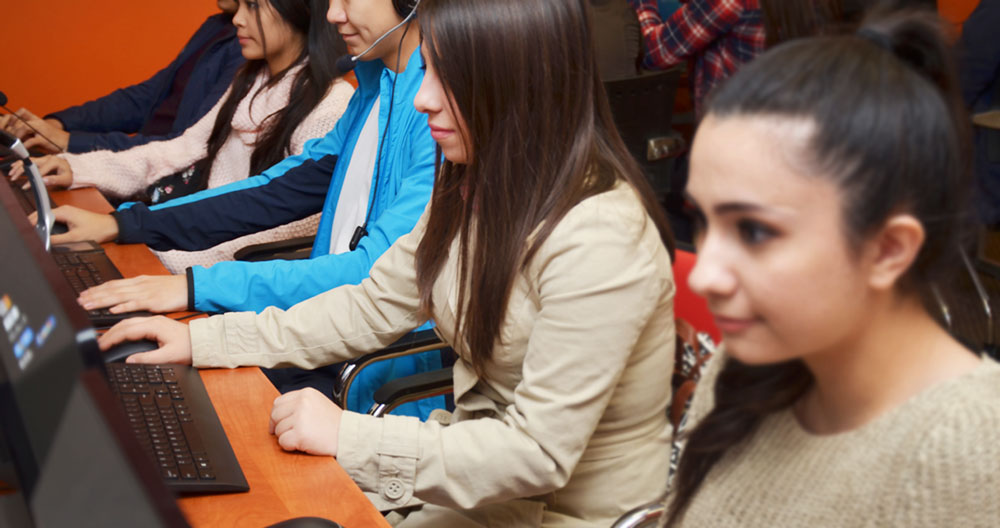 Level Progression
Progression from one level of the general english program to the next is determined at the end of each term. Students are assessed throughout the term, and promotion to the next level is confirmed using the following criteria:
Graded coursework, i.e. homework, quizzes, reading and listening tests, progress drafts, portfolio, etc.
A grade of 70 or above in the course are considered in promotion decisions. To pass to the next level, students also must obey attendance, participation, and coursework rules during the session.
Sample Weekly Schedule Progression
General English Program students take a 4-hour listening and speaking class, a 4-hour reading and writing class, and a 2-hour Lab, Monday through Tuesday or Thursday and Friday. Classes are held from 09:00 – 06:30.
09:00 – 06:30 Sample Class
| | | |
| --- | --- | --- |
| GENG 0003 | Monday | Tuesday |
| 9:00 – 10:40 | Writing & Speaking | Reading & Writing |
| 11:00 – 12:40 | Writing & Speaking | Listening & Speaking |
| 12:40 – 01:30 | LUNCH | LUNCH |
| 1:30 – 03:10 | Listening & Reading | Reading & Writing |
| 03:30 – 05:10 | Listening & Reading | Listening & Speaking |
| 05:30 – 06:30 | LAB | LAB |