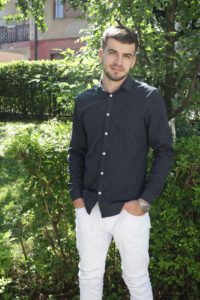 We here at Gulf Language School take pride in our students! We would not be able to function without them. Today, we will take a closer look at a student who has completed the Intensive English Program and has successfully transitioned into North American University!
Q: Who are you?
A: My name is Mahir Tahirovic.
Q:  Where are you from?
A: I am from one little country called Bosnia and Herzegovina. Bosnia and Herzegovina is a country on the Balkan Peninsula in southeastern Europe.
Q: What is your major?
A: My major is Business Finance. 
Q: What are your hobbies?
A: I have a lot of hobbies and a couple of them are working out, driving fast cars, traveling, and many more.
Q: What do you like most about America?
A: There are several things that I love about America. I love people that live here, the lifestyle, the cars, the opportunities for good jobs, and the potential for a bright future.
Q: How has learning English in IEP helped you at NAU or your job?
A: It helped me, because when I came here to Houston my English was not that good.
Q: What are your future academic, career or professional goals?
A: I have one more year to graduate from university, and after that, I am planning to get a MBA. Later on, I am planning to get a PhD as well. In the mean time, while I am going to school, I would like to find some job that will get me some experience which will help me to open my own business later on.
We would like to thank Mahir Tahirovic for allowing us to interview him. Feel free to stop by and say hello to the GLS faculty and staff on the seventh floor! We really enjoy student visits!
Also, if you are interested in getting interviewed for this blog, please contact Mr. Villanueva at [email protected]. Thanks!