When students arrive, they are tested and placed into classes which most closely match their English proficiency. Students who have lower-level English skills should expect to spend at least one year and, in some cases, up to one and a half years in our program before entering a university. The placement test used by the Gulf Language School is the ACCUPLACER.
The ACCUPLACER ESL Tests comprises two main sections:
The ACCUPLACER ESL Language Placement Test (LPT), an objective, multiple-choice online examination that tests grammar, reading and listening comprehension, and sentence building.
A writing sample based on an assigned topic.
The four ESL skill scores are converted to an overall average score on a 120 point scale and an essay score on a 6 point scale. Students who score between 0-20 on ESL skills and less than 1 on the essay are not eligible for admission at NAU. Students who score between 21-120 on ESL skills and greater than or equal to 1 are then placed into one of six levels corresponding to their scores:
Accuplacer ESL Language Placement test
| Level | Reading | Essay | Program Length |
| --- | --- | --- | --- |
| IENG 0001 | 21 ≤ 36 | 1 | 8 – week session |
| IENG 0002 | 37 ≤ 52 | ≥ 2 | 8 – week session |
| IENG 0003 | 53 ≤ 68 | ≥ 3 | 8 – week session |
| IENG 0004 | 69 ≤ 84 | ≥ 4 | 8 – week session |
| IENG 0005 | 85 ≤ 100 | ≥ 5 | 8 – week session |
| IENG 0006 | 101 ≤ 120 | 6 | 8 – week session |
Language Placement Testing Information
You need to complete the Language Placement Test if:
You would like to enroll in an Intensive English Program ESL course for the first time OR
You came from a country where English is not the native language.
Why do I need to complete the Language Placement Test?
To assess your listening, grammar, reading, and writing skills.
To find out if you are ready to do college-level work
To determine whether you need to further develop your skills.
To match your skills to an ESL class.
To increase your possibility for success in college.
Success in Language Placement Test is determined by:
Current listening, grammar, reading, and writing skill level.
Learning strategies, Study skills and Time Management skills
Previous grades in English and/or ESL
Completion of course prerequisites
Motivation
Length of time since your last ESL class
Length of time since your last ESL class in your country
What assessment test will I take?
The name of the Language Placement test at Gulf Language School is ACCUPLACER
All students will start with the Language Usage, proceed to Reading Comprehension Skills, then the ESL Writeplacer essay, next complete the Sentence Meaning test, and last, the Listening comprehension test.
Why is Accuplacer an "Adaptive" Test?
You will start with an item of intermediate difficulty.
Then, if you answer correctly, the next item will be more difficult and worth more points.
If you answer incorrectly, the next item will be less difficult and worth fewer points.
If you want to increase your chance of placing into a high-level, perform well in the first few questions.
What skills are assessed by the ACCUPLACER ESL tests?
The ACCUPLACER ESL assessment tests measure a variety of skills. These are:
ACCUPLACER ESL Language Use
The ESL Language Use test consists of 20 questions and measures students' proficiency in using correct grammar in English sentences. There are five context areas that are assessed:
Nouns, Pronouns and Pronoun Case Structure
Sentence Structure
Subject-Verb Agreement
Adverbs, Adjectives and Verb
Subordination and Coordination
ACCUPLACER ESL Reading Skills
The Reading Skills test consists of 20 questions and assesses students' comprehension of short passages. The test contains brief passages of 50 words or less and moderate-length passages of 50 to 90 words. There are two content areas:
Literal Comprehension
Inference
ACCUPLACER ESL Sentence Meaning
Sentence Meaning test consists of 20 questions and measures how well students understand the meaning of sentences in English. It assesses the understanding of word meanings in one or two sentence contexts. There are four content areas:
Particles, Phrasal Verbs and Prepositions
Adverbs, Adjectives and Connectives Sequence
Basic Nouns and Verbs
Basic and Important Idioms
ACCUPLACER ESL Listening Comprehension
Listening Comprehension test consists of 20 questions and measures how the ability the student has to listen to and understand one or more people speaking in English. It assesses the listening skills of non-native English speakers for:
Literal Comprehension
Implied Meaning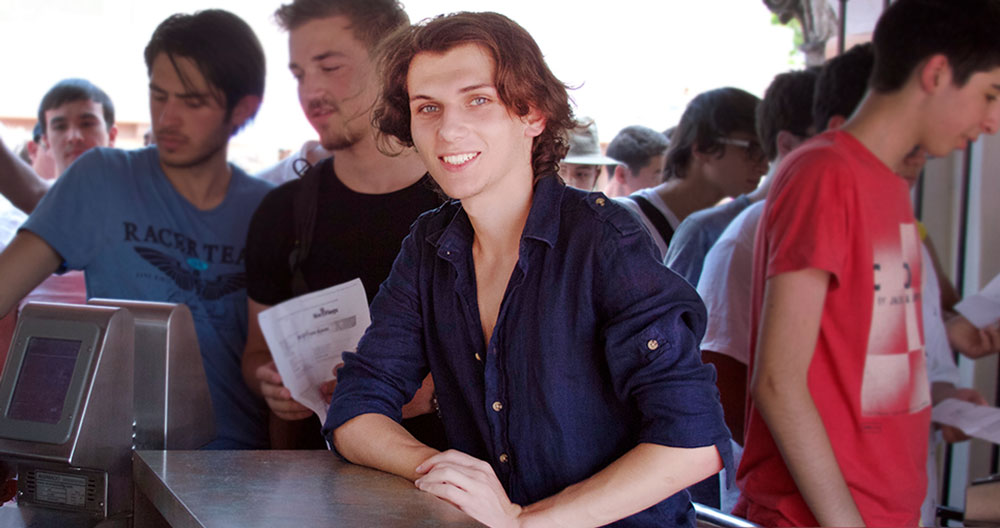 Prepare for Placement
What can I do to prepare for the Language Placement test?
Review the websites shown below. Read and practice before coming to take your placement test.
These websites give you detailed descriptions of the test, review materials, sample questions and quizzes, strategies, and tips:

Online ESL Resources

Accuplacer Language Placement practices
You can access the FREE study app from a computer, tablet, or smartphone.
To get the free Web-based app, visit accuplacer.collegeboard.org. Custom Web apps are available for North Carolina, Texas, and Indiana.
Retesting
It is incumbent upon students to fully prepare before taking ACCUPLACER, the Gulf Language School's placement assessment tool.
Retesting is appropriate when there is reason to believe that a score obtained from previous testing does not accurately reflect the examinee's true level of knowledge or skill. Typically, retesting is appropriate in two situations:
(1) when factors other than the examinee's ability are believed to have influenced the previous testing and (2) when the scores obtained from earlier testing are no longer believed to reflect the student's current ability.
Situation 1: Performance influenced by factors other than ability
In Situation 1, some aspect of the previous testing session is believed to have caused the examinee to perform in a manner not indicative of his or her actual level of ability. For example, the examinee may have become physically ill during the test or for some reason was unable to put forth his or her best effort. An examinee who does not understand the testing procedures or who cheats on the test falls into this category.
A testing session that is interrupted or improperly administered to the extent that it hinders student performance is another cause for retesting. In Situation 1, the examinee can be retested as soon as the disruptive situation has been resolved.
Situation 2: Significant change in examinee ability
In Situation 2, a significant change, whether an increase or a decrease, is believed to have occurred in the examinee's relevant knowledge and skills. For example, if the examinee has engaged in a learning activity since the previous ACCUPLACER testing and the learning activity is likely to have meaningfully improved the examinee's relevant knowledge and skills, then ACCUPLACER retesting may occur as soon as the learning activity is completed.
In some cases, this type of retesting is referred to as post-testing, because it follows the conclusion of a learning experience (e.g., completion of a prerequisite course) that has occurred since the previous testing. The purpose of such retesting is often to determine if the examinee now meets intended prerequisite skill levels appropriate for placement into the next course. In some instances, an examinee's scores may be from testing that occurred several months earlier or even more than a year earlier. If it is reasonable to assume that the examinee's current level of knowledge and skills should be verified, ACCUPLACER retesting can be conducted at any time but must fall within the ACCUPLACER/ESL retest timeline guidelines listed below.
Retesting for pre-university applicants
Students are encouraged to complete a test review for the subject area in which he or she wishes to retest in. The Office of GLS Administrative Assistant will provide reviews for the test.
The student requesting the retest must contact the director of the Gulf Language School for approval.
If approved, a form will be completed and given to the student for presentation to assessment specialist.
The Office of the GLS Administrative Assistant will schedule the retest. A copy of the approved retest form must be presented to the assessment specialist at the time of re-testing.
The director, after review of the assessment specialist's placement, determines final placement.
Note: There is a seven (7) day waiting period to retest.