At GLS; it takes a well-oiled team to help students achieve their English language goals. Every two weeks we will be presenting a profile of one of our own team members.The first honor goes to our talented faculty member, Jason. He was the one behind the wonderful Halloween post, and it's only fair to start with him as our "One of Us"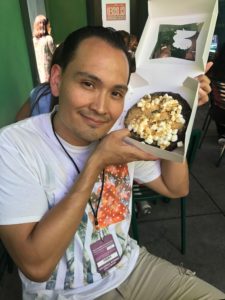 Who is Jason Villanueva?
Wow! This is very difficult to answer! Sometimes I go through periods where I think I know who I am, but as you know sometimes life is difficult to figure out. Therefore, I would like to say that it changes depending on the situation. I identify myself as an American, as I was born and raised in this country, and Korean and Mexican because of my parents. However, sometimes this is very difficult to explain to people. For example, when I was living in South Korea, many Korean people would insist that I was not Korean because I had a foreigner accent, and did not look like the typical Korean. On the other hand, whenever I travel to Mexico, the locals would not believe that I was Mexican because of my physical appearance; primarily my facial features even though my last name is Villanueva. Last but not least, some people here in America would even ask me "Where are you really from?" even though I was born and mostly raised here in the United States. So, I usually like to think of myself as a chameleon who can adapt to the environment depending on the circumstance.
What is your educational background?
I earned my Bachelor's Degree (B.A.) at the University of Illinois at Urbana-Champaign (Go Illini!), majoring in English and minoring in Asian American Studies. I also earned my Juris Doctor (J.D.) at Texas Southern University, here in Houston, Texas.
What three adjectives would describe you?
Cool, calm, and collected.
What are you currently reading for enjoyment?
I am currently engrossed in "Grit: The Power of Passion and Perseverance" by Angela Duckworth. It is highly motivating and a great read.
What interests do you pursue outside of the classroom?
Currently, I have been focusing on getting in better shape, as I am a health and fitness junkie. I am thinking about possibly competing in a fitness competition and doing a triathlon next year. Also, I create music in my free time. One interesting fact was that I was in a marching band in high school, and played the alto saxophone. Also, I was a DJ in college, so I was fortunate enough to make connections with many artists/musicians during my time at the university.
When did you decide to become a teacher, and why did you choose this field?
I actually had no idea that I would become a teacher until my first job out of college when I moved to South Korea. At first, my original plan was to go there just to revisit some old memories with family members and friends, but as it turned out, I actually enjoyed teaching when I was living there! Also, my experience as a student in law school affirmed my desire and passion for teaching.
What is your favorite skill to teach? Why?
I love teaching speaking. When I was a student, I really hated speaking, especially giving a speech or presentation in front of my peers. It really was nerve wrecking and embarrassing. I remembered one time that my high school speech teacher asked me to give a speech in front of class, and I refused to do so. However, he called my home, and my mom and dad were so upset because they found out that I did not give the speech and that I could possibly fail the class because of it. As a result, I ended up giving the speech because I did not want to fail the class. Another experience that I had later in life helped me overcome my difficulty in speaking in front of my classmates. My law professor at the time, Ben Hall, who ran for Houston mayor in 2015, basically threw me into a pack of wolves by making me plead a case on the spot without any preparation whatsoever. As I later realized, this was a good experience for me because I learned that you cannot be ready for every situation, just like in real life. You have to roll with the punches and do the best you can given the circumstances. I was able to gain more confidence each time I had to argue more cases. As time passed, I was able to overcome my fear of public speaking. So, basically my experiences have allowed me to help students to overcome their fears of speaking and to become better speakers.
What do you like most about teaching as a career?
I like to be able to make a positive impact on students by providing some wisdom, and helping them reach their goals.
What do you think is the greatest challenge facing students today?
I feel like the greatest challenge of today is that students have a difficult time being critical thinkers. Technology has given many of us benefits by making learning easier and more efficient. However, it has also made it so easy that students do not spend enough time actually learning. Although information is widely available, it also allows students to take the discovery of knowledge for granted because it is so easy. As difficult as it was in the past, it was very rewarding to do "old school" research, such as looking at encyclopedias in order to discover information, or finding books at a library via card catalogue instead of an online catalog.
What would your students say they had learned after spending a year at GLS? (Or: What do you want students to remember about you're the school/class?)
I think all students in GLS would appreciate that it will get them prepared for their future. What I mean by this is that GLS is a serious, intense, yet fun program that will help you reach your goals, whether it is to continue your studies at a university, or to help your future career. In addition, I hope that students remember that everyone here cares, and our doors are open for you!
What would you tell any student considering GLS and Houston?
I would tell students that GLS would help you learn English! A lot of my former students come back to me and tell me how much they appreciate everything we have done to help them during their time in GLS. Also, Houston is an amazing city that has everything that you need in a metropolitan area. It is a city with a diverse population and great opportunities for growth and development. At first, I did not know what to expect when I first moved here about ten years ago. However, somehow and someway this city has grown on me! By the way, go Astros!