Welcome to Gulf Language School's Intensive English Program (IEP) at North American University. Our highly-regarded language program is open to non-native speakers who wish to achieve proficiency in English for academic or professional purposes. Program components include reading, writing, listening and speaking.
Mission Statement
The mission of the Intensive English Program (IEP) is to provide quality language instruction to nonnative speakers of English with an emphasis on the language skills necessary for academic or professional success.
Program Outcomes
Students completing the language program will demonstrate the ability to:
comprehend written and spoken university-level materials
take effective lecture notes
write, revise, and edit academic papers that follow conventions of Edited American English (EAE)
prepare and deliver formal presentations that follow conventions of Edited American English (EAE).
Program Components
Listening
Listening classes focus on academic listening skills and note-taking from lectures. Students learn academic vocabulary from each lecture, note-taking methods, listening comprehension, and discussion strategies.
Reading
Reading classes focus on improving overall reading comprehension. Through the use of authentic texts, students learn academic reading strategies, acquire new vocabulary, and work to increase reading speed and effectiveness.
Writing
Writing classes focus on a variety of structures in controlled compositions with an emphasis on various types of organization, (e.g. narration, comparison and contrasts, and literary analysis) practiced in guided formats. Students use academic vocabulary in their writings and the writing process of drafting, revising, and editing.
Speaking
Speaking classes focus on increasing fluency and developing oral comprehension of academic English sentences. Students will participate in oral comprehension exercises; they will also participate in class discussion of relevant subjects and present academic oral presentations.
Program Length
Program length: 8-44 weeks
The placement test is given to each new student before they begin their course of study to evaluate the appropriate level of instruction. The length of instruction depends on the results of the placement exam. For example, an applicant scoring into IENG 0001 will have the following course of study:
Course
Semester
Weeks
IENG 0001 Lower Beginning English Level 1
Fall 1
8
IENG 0002 Upper Beginning English Level 2
Fall 2
8
IENG 0003 Lower Intermediate English Level 3
Spring 1
8
IENG 0004 Upper Intermediate English Level 4
Spring 2
8
IENG 0005 Lower Advanced English Level 5
Summer 1
6
IENG 0006 Advanced English Level 6
Summer 2
6
Total
44
The academic year is divided into four (4), 8-week-long sessions, 4 hours a day, Monday through Friday (fall and spring) and two (2), 6-week long sessions, 5 hours a day, Monday through Friday (summer). Students typically attend 2 classes each session (Reading/Writing and Listening/Speaking), and advance to a new level each session.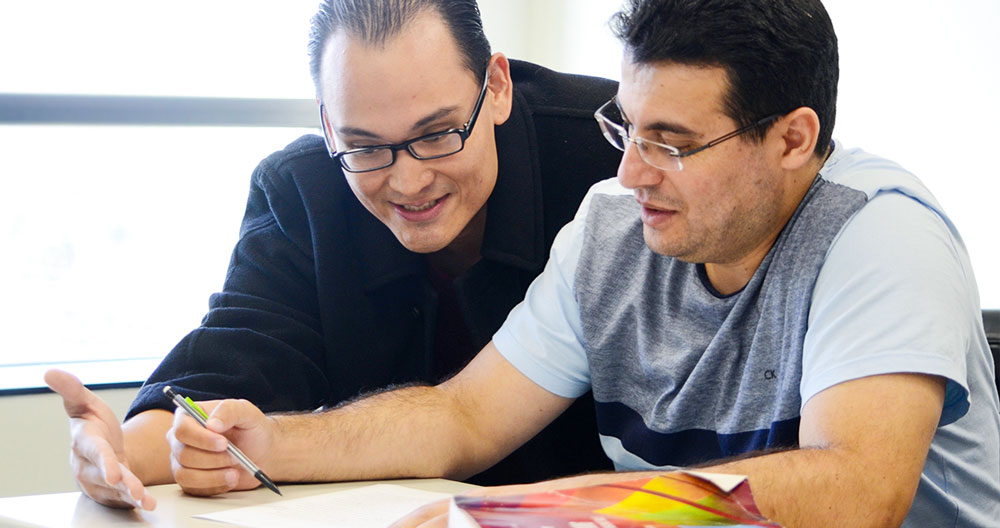 Level Progression
Progression from one level to the next is determined at the end of each term. Students are assessed throughout the term, and promotion to the next level is confirmed using the following criteria:
Graded coursework, i.e. homework, quizzes, reading and listening tests, progress drafts, portfolio, etc.
ACCUPLACER® Exit Test, an objective, multiple-choice examination that tests grammar, reading and listening comprehension, and sentence construction.
These factors and a grade of 70 or above in the course are considered in promotion decisions. To pass to the next level, students also must obey attendance, participation, and coursework rules during the session.
Sample Weekly Schedule Progression
Intensive English Program students take a 2-hour listening and speaking class and a 2- hour reading and writing class, Monday through Friday. Classes are held from 09:00-01:00 and 1:00 – 05:00.
09:00 – 01:00 Sample Class
| | | | | | |
| --- | --- | --- | --- | --- | --- |
| IENG 0003 | Monday | Tuesday | Wednesday | Thursday | Friday |
| 9:00 – 10:40 | Reading & Writing | Reading & Writing | Reading & Writing | Reading & Writing | Reading & Writing |
| 11:00 – 12:40 | Listening & Speaking | Listening & Speaking | Listening & Speaking | Listening & Speaking | Listening & Speaking |
01:00 – 05:00 Sample Class
| | | | | | |
| --- | --- | --- | --- | --- | --- |
| IENG 0003 | Monday | Tuesday | Wednesday | Thursday | Friday |
| 1:00 – 02:40 | Reading & Writing | Reading & Writing | Reading & Writing | Reading & Writing | Reading & Writing |
| 03:00 – 04:40 | Listening & Speaking | Listening & Speaking | Listening & Speaking | Listening & Speaking | Listening & Speaking |